POSTINGS
Six-Minute Mashup of 258 Movie Trailers From 2013
                                                     * * *
List of movies in 2013 Movie Trailer Mashup:

PRIMA PARTE: THE PURGE

0:08 - The Informant

0:09 - The Hunger Games: Catching Fire

0:10 - The Fifth Estate

0:10 - The Act of Killing

0:11 - God Loves Uganda

0:12 - The Gatekeepers 

0:12 - Lone Survivor

0:13 - Ip Man: Final Fight

0:14 - Lone Survivor

0:15 - Metallica: Through The Never

0:15 - Broken City

0:16 - Saving Mr. Banks

0:17 - Gangster Squad

0:18 - Escape From Tomorrow

0:19 - Mandela: A Long Walk to Freedom

0:20 - Black Nativity

0:21 - Emperor

0:22 - The Family

0:23 - 12 Years a Slave

0:25 - Mandela: A Long Walk to Freedom

0:27 - The Great Gatsby

0:28 - 42

0:29 - The Butler

0:31 - 2 Guns

0:33 - Captain Phillips

0:38 - The Hunger Games: Catching Fire

0:41 - Fruitvale Station

0:42 - 47 Ronin

0:43 - Beautiful Creatures

0:44 - A Haunted House

0:45 - Elysium

0:46 - John Dies at the End

0:47 - Texas Chainsaw 3D

0:48 - A Touch of Sin

0:49 - Mr. Nobody

0:50 - The Last Exorcism: Part II

0:51 - Shadow Dancer

0:51 - White House Down

0:53 - Red 2

0:54 - Texas Chainsaw 3D

0:55 - 2 Guns

0:55 - G.I. Joe: Retaliation

0:56 - The Purge

0:57 - You're Next

0:57 - Metallica: Through The Never

0:58 - The Colony

0:59 - V/H/S 2

1:00 - Spring Breakers

1:01 - Filth

1:02 - Metallica: Through The Never

1:03 - A Touch of Sin

1:04 - Metallica: Through The Never

1:05 - Mr, Nobody

1:06 - Adore

1:07 - Berberian Sound Studio

1:08 - Her

1:08 - Blue Jasmine

1:09 - Room 237

1:11 - The Last Exorcism Part II

1:12 - The Counsellor

1:12 - Stoker

1:13 - American Hustle

1:14 - Nebraska

1:15 - Gangster Squad

1:16 - Out of the Furnace

1:17 - American Hustle

1:18 - Spring Breakers

1:19 - Don Jon

1:20 - Gangster Squad

1:20 - Only God Forgives

1:22 - Escape From Tomorrow

1:22 - The Lone Ranger

1:24 - The Great Gatsby

1:26 - The Hunger Games: Catching Fire

1:28 - V/H/S 2

SECONDA PARTE: THE WORLD'S END

1:31 - The World's End

1:44 - Anchorman 2

1:45 - The Smurfs 2

1:46 - The Internship

1:47 - Grown Ups 2

1:48 - Identity Thief

1:48 - The To Do List

1:51 - Delivery Man

1:53 - Bad Grandpa

1:55 - Don Jon

1:57 - The Croods

1:58 - Cloudy With a Chance of Meatballs 2

1:59 - Free Birds

2:00 - The Way Way Back

2:01 - Much Ado About Nothing

2:02 - Walking With Dinosaurs

2:03 - The Croods

2:04 - Epic

2:05 - Kevin Hart: Let Me Explain

2:06 - We're The Millers

2:07 - Fast and Furious 6

2:09 - After Earth

2:10 - Battle of the Year

2:11 - Her

2:12 - Frozen

2:13 - The Best Man Holiday

2:14 - The Kings of Summer

2:15 - Kill Your Darlings

2:15 - The Heat

2:16 - I'm So Excited

2:17 - 21 and Over

2:18 - Oz: The Great and Powerful

2:19 - The Croods

2:21 - Planes

2:22 - Last Vegas

2:23 - Star Trek Into Darkness

2:24 - Turbo

2:25 - Monsters University

2:28 - Ender's Game

2:29 - August: Osage County

2:30 - Fast and Furious 6

2:30 - The ABC's of Death

2:32 - The Wolverine

2:33 - Fast and Furious 6

2:34 - Rush

2:36 - Percy Jackson: Sea of Monsters

2:37 - The Last Stand

2:38 - Turbo

2:39 - 22 Bullets

2:40 - Dead Man Down

2:41 - Chinese Zodiac (CZ12)

2:41 - Fast and Furious 6

2:42 - Getaway

2:43 - Percy Jackson: Sea of Monsters

2:45 - Despicable Me 2

2:49 - A Good Day to Die Hard

2:50 - Machete Kills

2:51 - Dhoom 3

2:52 - Man of Tai Chi

2:53 - Gangster Squad

2:53 - Percy Jackson: Sea of Monsters

2:54 - Getaway

2:55 - Elysium

2:56 - Kick-ass 2

2:57 - Dead Man Down

2:58 - The Secret Life of Walter Mitty

2:58 - Hansel & Gretel: Witch Hunters

2:59 - Bullet to the Head

3:00 - Escape From Planet Earth

3:00 - Oz: The Great and Powerful

3:01 - Dead Man Down

3:01 - Parker

3:02 - G.I. Joe: Retaliation

3:03 - Now You See Me

3:04 - Pacific Rim

3:06 - The Hobbit: The Desolation of Smaug

3:07 - Machete Kills

3:08 - 47 Ronin

3:09 - Man of Steel

3:10 - Riddick

3:11 - Star Trek Into Darkness

3:12 - The Wolverine

3:13 - Oz: The Great and Powerful

3:14 - Rush

3:14 - 2 Guns

3:15 - Getaway

3:16 - The Last Stand

3:17 - Chinese Zodiac (CZ12)

3:18 - Pain and Gain

3:19 - The Wolf of Wall Street

3:19 - The ABC's of Death

3:20 - Metro

3:20 - Ender's Game

3:21 - This is the End

3:21 - The Canyons

3:22 - The Wolf of Wall Street

3:23 - The Bling Ring

3:24 - Carrie

3:25 - Fast and Furious 6

3:26 - The Hangover Part III

3:28 - The ABC's of Death

3:29 - Oz: The Great and Powerful

3:29 -The Secret Life of Walter Mitty

3:30 - Jack the Giant Slayer

3:31 - Thor: The Dark World

3:32 - R.I.P.D.

3:33 - You're Next

3:34 - G.I. Joe: Retaliation

3:35 - The World's End

PARTE FINALE: THE FIFTH ESTATE

3:35 - The World's End

3:40 - Violet and Daisy

3:42 - Broken City

3:43 - How I Live Now

3:44 - The Lone Ranger

3:45 - The Great Beauty

3:46 - Grace of Monaco

3:48 - Romeo and Juliet

3:49 - The Host

3:50 - Upstream Color

3:51 - The Great Beauty

3:52 - Man of Steel

3:53 - To The Wonder

3:54 - The Grandmaster

3:55 - 12 Years a Slave

3:57 - Rush

3:58 - Beautiful Creatures

3:59 - Gloria

4:01 - Mama

4:03 - Stories We Tell

4:06 - The Wind Rises

4:10 - Oblivion

4:12 - Philomena

4:14 - Another

4:16 - Prisoners

4:17 - Filth

4:19 - Upside Down

4:21 - R.I.P.D.

4:22 - How I Live Now

4:25 - Hummingbird (Redemption)

4:25 - Jobs

4:27 - Drinking Buddies

4:28 - Inside Llewyn Davis

4:29 - Short Term 12

4:31 - The Place Beyond The Pines

4:33 - The Colony

4:35 - Upside Down

4:36 - The Book Thief

4:37 - Best Man Down

4:38 - To The Wonder

4:39 - About Time

4:41 - Her

4:44 - Enough Said

4:45 - Before Midnight

4:47 - Kill Your Darlings

4:48 - The Big Wedding

4:49 - Mama

4:50 - Lords of Salem

4:52 - Carrie

4:53 - The Butler

4:55 - Mud

4:56 - Blue is the Warmest Color

4:57 - The Spectacular Now

5:00 - Populaire

5:01 - I Give It a Year

5:02 - Mood Indigo

5:03 - Frances Ha

5:04 - The Incredible Burt Wonderstone

5:05 - The Great Gatsby

5:06 - Oz: The Great and Powerful

5:07 - The Hobbit: The Desolation of Smaug

5:08 - The Grandmaster

5:10 - The Great Beauty

5:11 - Man of Steel

5:12 - Oldboy

5:13 - The Hunger Games: Catching Fire

5:15 - Man of Steel

5:16 - The Book Thief

5:18 - Dallas Buyers Club

5:20 - The Wall

5:22 - The Hangover Part III

5:23 - The Fifth Estate

5:24 - Escape Plan

5:25 - The Fifth Estate

5:26 - The Informant

5:29 - The East

5:30 - Getaway

5:30 - The Fifth Estate

5:31 - Pain and Gain

5:33 - Byzantium

5:34 - The Purge

5:35 - White House Down

5:36 - Olympus Has Fallen

5:38 - Dead Man Down

5:39 - Side Effects

5:40 - Dead Man Down

5:41 - A Good Day to Die Hard

5:42 - The East

5:42 - The Host

5:43 - Shanghai Calling

5:44 - R.I.P.D.

5:44 - White House Down

5:45 - Byzantium

5:46 - Pain and Gain

5:47 - Prisoners

5:48 - Broken City

5:49 - Getaway

5:50 - Charlie Countryman

5:51 - Baggage Claim

5:52 - Paranoia

5:53 - The Hunger Games: Catching Fire

via The Sleepy Skunk
Playboy 60 Years.
Posted 1 week ago
0 notes
This is toooo much! Que interfaz tan bonita y los canales estan muy bien curados. #wow - My First Spotify Song :)
(Source: Spotify)
La nueva villana de X-Men, su historia empieza en Bogotá, Colombia.
Criticar es tan fácil.
Creer que uno tiene el derecho de destruir el trabajo de alguien, y simular que tan solo estamos "dando una opinión" se volvió costumbre.
Detrás de cada trabajo existe una procesión, si como en el suyo. Con sus tiempos, las carreras, la presión, ver que su competencia no hace mucho por estar donde esta, mientras usted lucha por hacer las cosas bien y los resultados no son tangibles. Y ademas tener que resistir ante la manada de soñadores que no han querido que pase algo con su vida, de personas que tal vez tienen un trabajo que no los llena y después llegan a un sitio que no los hace felices. Para luego esconderse detrás de una red que los aleja de las personas a las cuales "les expresa su opinión". El juego es yo hablo mal de su trabajo, sin importar y analizar nada, que significa para usted estar ahí, y mas allá de lo que le parezca, ignorar que esa persona esta haciendo las cosas bien. Así como en su trabajo, donde tal vez muchas personas hacen lo "mismo" que usted sin talento y lo que me causa mas tristeza sin pasión.
El que se defiende pierde, por grosero. El "yo solo estaba dando mi opinión", tiene el peso de yo lo puedo ofender, puedo ofender lo que hace y al final puedo, porque puedo opinar. 
Me parece ridícula esa dinámica de las redes. Mas, cuando se trata de "figuras publicas" casi que auto proclamadas, que se creen con derecho de destruir y no tocar. Usted no se convierte en uno mas, cuando sus opiniones de "carácter personal, no reflejan mi trabajo", tienen eco en mas de 10.000 personas que se criaron con el ejemplo de copia y vencerás. Las personas con el poder de la palabra y de la propagación de la misma deberían ser mas responsables y dejar de tirar juicios hacia el trabajo de los demás como si se hubieran ganado el derecho.
Criticar es muy fácil, me parece complicado trabajar, trabajar bien, encontrar un buen líder, tan bueno que sea un ejemplo (porque aunque usted no lo tenga y eso le duela, todavía quedan personas que dan ganas de seguir y no en twitter, en la vida, porque no se les perdió entre el "medio" el valor de las cosas.), muy complicado mirar hacia adentro y dedicarse a vivir la vida y luchar por lo que quiere, vivir tranquilo. 
Por eso todo el mundo se dedico a criticar, porque prefieren trabajar mal o a medias, porque les duele ver que alguien sea un ejemplo mientras ellos son una advertencia, porque es mas fácil creer que nada tiene valor en la vida, es mas fácil mirar que esta mal en la vida de los demás que organizar el desorden que hay en la propia, vivir "tranquilo" a costa de la intranquilidad de los demás.
Siga.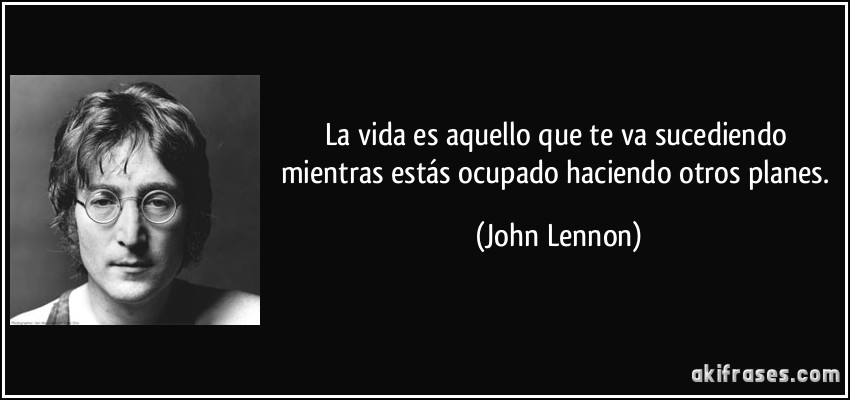 El "improvement" del 4to Capitulo de Agents of S.H.I.E.L.D.
Aloe Blacc – Love Is The Answer (Producida por Pharrell Williams)
Aloe Blacc presentó la última versión de su proyecto, Wake Me Up. El EP que cuenta con cuatro canciones, entre ellas una producida por Pharrell Williams. "Love Is The Answer" quien se inspiró en Stevie Wonder y la herencia de los sonidos de los años 70.